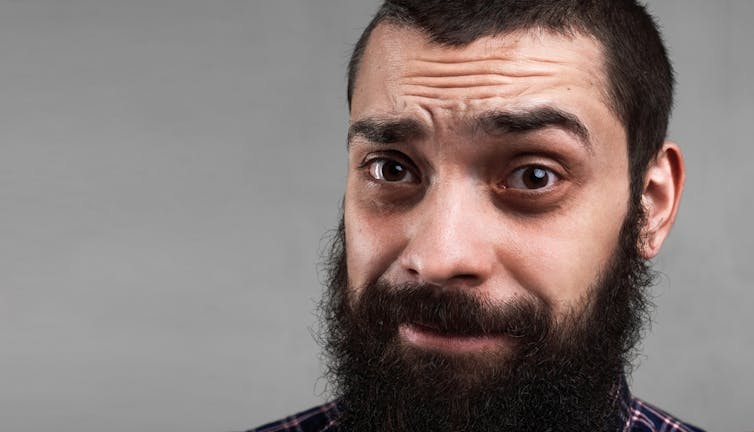 By Imran Awan, Birmingham City University and Irene Zempi, Nottingham Trent University
There has been a 29% rise in recorded hate crimes in the UK in the past year according to new figures released by the Home Office, which also showed a spike in offences following the EU referendum.
The consequences of hate crime are widespread. While Muslims in Britain are increasingly subject to Islamophobia, some non-Muslims are also being targeted because they are perceived to be Muslim.
In new research presented to the All-Party Parliamentary Group on British Muslims we looked at the experiences of non-Muslim men who reported being the target of Islamophobic hate crime.
We interviewed 20 non-Muslim men of different ages, race and religion, based in the UK. Our group included Sikhs, Christians, Hindus and atheists. Although their experiences were all different, they believed that their skin colour, their beard or turban meant that they were perceived to be Muslim – and targeted for it. We decided to only interview men in this study because we understand from our community work that men are more likely than women to be victims of Islamophobia due to mistaken identity.
Our findings backed up our previous research showing that a spike in hate crime is often triggered by a particular event. The men we interviewed, whose names we have anonymised here to protect their identities, described how they felt "vulnerable" and "isolated" after the EU referendum. Vinesh, a 32-year old, Indian British Hindu, told us:
People have been calling me names on Twitter like 'You're a p**i c**t'. I have also been threatened on Facebook like 'Today is the day we get rid of the likes of you!' I feared for my safety when I read this.
Some of the men noted how terrorist attacks including those in Manchester and London also triggered more Islamophobia. Others also noted how the Trump administration and its stance towards Muslims had promoted anti-Muslim sentiments globally.
In some cases, hate crimes are targeted at people's homes or workplaces, with property damaged with Islamophobic graffiti because the perpetrators believe the victims are Muslim. In a recent case in Liverpool, "Allar Akbar" (sic) was painted on a Hindu family's future home.
One 37-year-old man, called Paul, a white British atheist who is perceived to be a convert to Islam due to his beard, told us how he had been targeted:
I live on a rough estate. I had dog excrement shoved through the mailbox. They also threw paint over my door.
Nobody stepped in to help
Some of those we interviewed felt that their beard was a key aspect of why they were being targeted for looking Muslim. One 19-year-old, called Cameron, who is black British, said:
It's happened to me ever since I grew a beard. I'm not a Muslim but people stare at me because they think I am.
Many of those we interviewed reported that they suffered anxiety, depression, physical illness, loss of income and employment as a result of being targeted. Raj, a 39-year-old British Indian, told us:
We live in fear every day. We face abuse and intimidation daily but we should not have to endure this abuse.
Such feelings of insecurity and isolation were exacerbated by the fact that these hate incidents usually took place in public places in front of passers-by who didn't intervene to help. Mark, who is white and Christian and perceived to be Muslim due to his beard and Mediterranean complexion, said:
I was verbally abused by another passenger on the bus who branded me an 'ISIS terrorist' while passengers looked on without intervening. In another incident, I had 'Brexit' yelled in my face … I feel very lonely. No one has come to my assistance or even consoled me.
Identity questioned
The men we interviewed constantly felt the need to prove their identity, and differentiate themselves from Muslims in an attempt to prevent future victimisation. Many described it as emotionally draining. Samuel, a 58-year-old black British Christian, said:
My identity is always questioned because I look like a Muslim. It does make me feel low but I got used to it. As a black man with a beard you always get associated as being a Muslim terrorist.
The men we interviewed said they wanted much more public awareness about hate crimes and better police recording of these kind of offences. They also called for training for bystanders and people such as teachers who may need to deal with more of these situations. They also thought that an app, through which all types of hate crime could be reported in real time, could offer support for victims.

The rise in Islamophobic hate crime has made many Muslims live in fear. But this kind of hatred is pervasive, and can affect anyone perceived to be Muslim. "You all look the same", one man was told after explaining that he wasn't Muslim to somebody who abused him on the train. British society needs to get a better grip on understanding this often "invisible" form of hate crime and what to do about it.
About Today's Contributors:
Imran Awan, Associate Professor and Deputy Director of the Centre for Applied Criminology, Birmingham City University and Irene Zempi, Director of the Nottingham Centre for Bias, Prejudice & Hate Crime, Nottingham Trent University