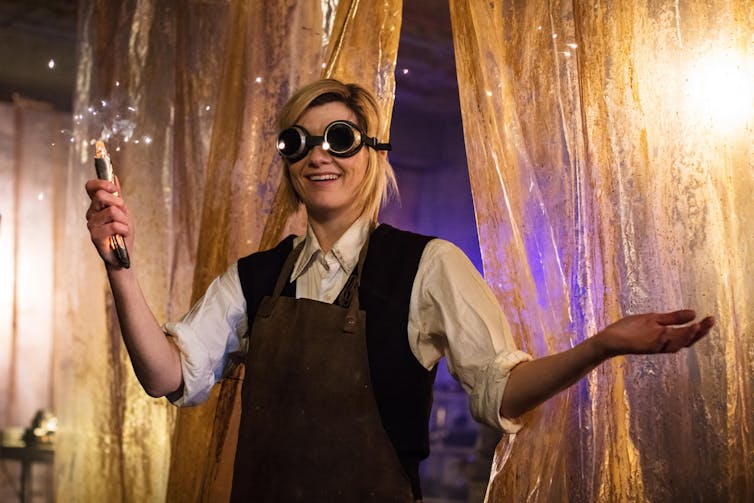 SPOILER ALERT: this review assumes you've seen the first episode of the Doctor Who series starring Jodie Whittaker, and includes detailed plot and character information from the outset.
The 13th Doctor Who, played by Jodie Whittaker, falls into this story in the middle of the action, crash landing on a train where her new companions are trapped.
In case you've been hiding on Mars (or Gallifrey), her first appearance is given a pulse of the famous theme music for identification purposes – not that anyone in the massive earthbound audience will need much persuading that Whittaker is the Doctor.
She plays an absolute blinder throughout, ranging from quietly amusing moments such as asking to have a police car's "lights and siren on", through to smelting her own sonic screwdriver. There's also some convincing stunt action on show – and a moving account of long-lost family thrown in for good measure.
But the classic BBC series' new showrunner, Chris Chibnall (the writer of smash-hit drama series Broadchurch), is preoccupied with overturning expectations in "The Woman Who Fell To Earth". The episode begins with 19-year-old warehouse worker Ryan (Tosin Cole) vlogging about the "greatest woman" he's ever met – but just who is she? Before long, Ryan's grandmother Grace (Sharon D Clarke), her second husband Graham (Bradley Walsh) and a former schoolmate of Ryan's, police officer Yasmin Khan (Mandip Gill), are united on a train that's under attack near the city of Sheffield, England.
Ryan assumes that an unknown entity moving through the train carriages has killed someone. A classic Doctor Who set-up, you might think, only for the Doctor to counsel that, no, this death was more likely from shock – while linked to the alien incursion, it wasn't intended or executed by a traditional monster. The expected storyline is quickly overturned.
Later, the Doctor comes up with an "Alien vs Predator"-style explanation of events, only to accept that unusually she too has got things wrong – this isn't one alien against another, instead it's a hunt for human trophies. And Chibnall wrong-foots viewers by depicting the character of Karl Wright, another passenger caught up in the train attack, as classic monster fodder – only to make him rather more "randomly" central to the narrative than standard conventions might dictate.
Shock of the new
"
New can be scary
", the Doctor cautions her latest friends – while reflecting on the fact that – post-regeneration – she's temporarily become "
a stranger to myself
". And there's a mission statement of sorts put front-and-centre, as she hails "
Tim Shaw
" – her name for the alien warrior chasing around Sheffield – with an inspirational account of transformative self-identity: "
We're all capable of the most incredible change. We can evolve, while still staying true to who we are. We can honour who we've been and choose who we want to be next
."
"The Woman Who Fell To Earth" is preoccupied with gender – but probably not the one you were expecting. It is sometimes less about the Doctor's newfound femininity (which gets some great one-liners) and more about wayward masculinity, represented by both Karl and "Tim Shaw". The former is obsessed with inspirational quotes ("I am brave", "I am confident", "I am special") while lacking many of these positive qualities, and the latter is an intergalactic cheat, insecure about his ability to become a leader.
There is, also, a stronger sense of male vulnerability in this tale than ever before: we have the story of Ryan's dyspraxia to follow in coming episodes and it seems unlikely that Graham O'Brien's cancer remission will be mentioned just this once (Graham is Ryan's step-grandad as well as Grace's partner, and is superbly played by Walsh).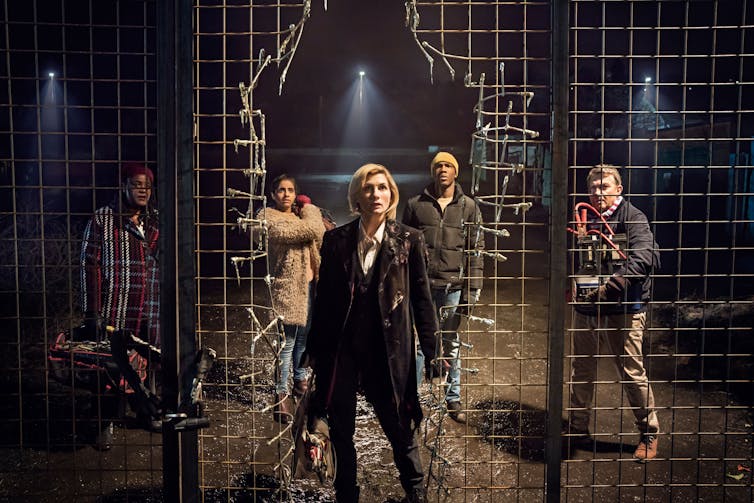 Indeed, the decision to include these real-world problems – the energetic Grace having been Graham's chemo nurse when they first met – strikes me as a genuinely brave move for a family entertainment show, and one to be applauded. This is a grounded, challenging view of Doctor Who – one which displays its humanity not via reassuring neoliberal tales of self-celebration, but instead through a (public service) sense of needing to "work through" difficulties.
However, given recent debates around "fridging" – the trope where a female figure (often a girlfriend) has to be killed in order to motivate a male character's angst-filled storyline – the demise of courageous Grace feels like a misstep. Her loss leaves a symbolic gap for the Doctor to fill, perhaps – as well as a reason for Ryan and Graham to become time travellers rather than wanting to return to Sheffield, 2018. But she's the one character who instantly feels as if she should have been a "companion" to this Doctor.
Brave new Who-niverse
"
The Woman Who Fell to Earth
" is sharply directed by Jamie Childs (His Dark Materials) and benefits from some impressive incidental music from Segun Akinola (Dear Mr Shakespeare: Shakespeare Lives). Whittaker doesn't put a foot wrong and – with a convincing group of new friends, a brilliant cliffhanger and a showrunner unafraid to incorporate mentions of cancer, chemo and dyspraxia – this looks to be a show in safe hands.
Male heroics will no doubt earn an ongoing place in the new "Who-niverse" – if Ryan and Graham can be shaped, inspired and remade by the transformational zest of Whittaker's Doctor. In time, they will have an opportunity to properly learn the lessons of human rather than Time Lord regeneration, and how "we're all capable of the most incredible change".
This is a strong opening to a new phase in Doctor Who's history: it is accessible, bravely grounded and inspiring in its own right. The Doctor is in.

About Today's Contributor:
Matt Hills, Professor of Media and Film, University of Huddersfield
This article is republished from The Conversation under a Creative Commons license.